Technological advancement in the field of dentistry has brought with it a revolution that is completely changing the way dental treatments are approached. Digitization and new technological advances have given way to what is known as the "dental digital flow", an innovative form of direct and bidirectional communication via the internet between dental health professionals and prosthetic laboratory technicians.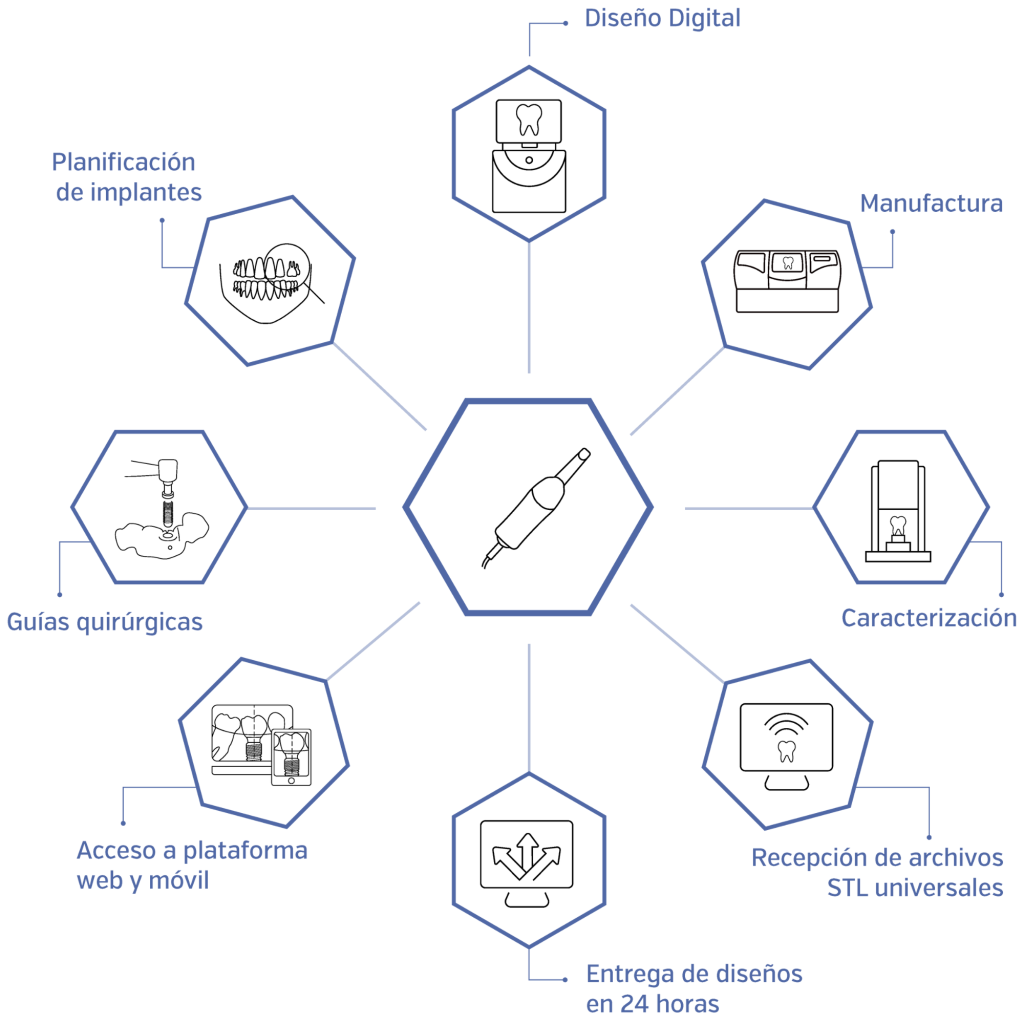 This digital flow has as its main advantage the accuracy and immediacy in the transfer of virtual patient data. Intraoral scanners and 3D panoramas are prominent examples of these technologies that allow you to obtain an exact virtual representation of the jaws and the oral cavity in real size. The amazing thing is that these digital files can be sent to the laboratory at the same time they are registered, even before the patient leaves the consultation.
The process continues in the laboratory, where the technician works with the digital files and uses 3D printers to create accurate physical models of the patient's mouth. These models will serve as the basis for designing and manufacturing custom teeth with the help of computer-aided design (CAD) or computer-assisted manufacturing (CAM) software. In this way, an exact replica of the patient's dental anatomy is achieved and the final rehabilitation is prepared with unprecedented precision.
Compared to traditional methods, such as the use of alginate to replicate the jaws, the digital dental flow represents a qualitative leap. While alginate is a powdered material that is mixed with water and hardens in the mouth, digital scanning is much more comfortable and faster for the patient. In addition, traditional materials such as alginate may experience contraction over time, which reduces the accuracy of the replica obtained. In contrast, the digital dental flow offers more accurate results and eliminates the need for manual procedures such as plaster emptying to obtain the model.
This digital system is rapidly gaining ground in the field of dentistry. Manufacturing times are significantly reduced, which leads to a decrease in the number of visits to the dentist for patients.
Digitalization has become an indispensable ally for dentists and laboratory technicians, taking dentistry to a more advanced and efficient level in the search for healthier and more radiant smiles.
At SOi Digital we are experts and permanent users of the digital dental flow, promoting this methodology. If you want to start, improve your knowledge or incorporate it into your practice, let's talk and boost your efficiency. You can contact us here.