The global COVID-19 pandemic has triggered a series of innovations in the field of digital and analog dentistry at the Center for Advanced Dental Education (CADE) of the University of Saint Louis (SLU). During this time of challenges and restrictions, CADE researchers have embarked on the search for solutions that have led to two unique technological advances, which are attracting the attention of dental professionals from all over the world.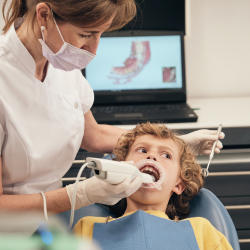 Dr. Ki Beom Kim, program director in the Orthodontic Department of CADE and holder of the Dr. Lysle Johnston Chair in Orthodontics, highlights how the pandemic boosted the need to adopt digital orthodontics in response to the closure of clinics and movement restrictions. "Digital transformation has become an imperative need to maintain the provision of services and improve the quality of life of patients."
In collaboration with Graphy, a South Korean 3D printing materials company, SLU researchers have dedicated three years to developing 3D printed direct aligners. The results of their research have been recently published in the document Progress in Orthodontics, entitled "Evaluation of the strength profile of directly printed aligners against thermoformed aligners and the effects of uncompromised surface patterns." This innovative approach to digital dentistry allows a more precise control of the dimensions and properties of the aligners compared to thermoformed plastic sheets, such as those used in the popular Invisalign method. This advance is expected to accelerate the process of tooth movement, reducing treatment time and improving the effectiveness of the results.
Dr. Kim highlights the "commercial relevance of this innovation, since it is expected that the 3D dental aligner approach can capture a significant portion of the market, potentially taking up to 10% of customers (more than $5 billion) of Invisalign's market share."
The second technological advance has been thanks to the collaboration with YOAT, a medical technology company based in Seattle with whom they have addressed a long-standing challenge in the field: orthodontic retention. Traditionally, the use of fixed retainers has been a slow and error-prone process, which has hindered its widespread adoption.
YOAT has developed a bending machine that promises to create precise retainers and drastically reduce the time required for adjustments. The first results of the study already show greater stability for patients compared to those traditionally used
Before, dentists had to manually bend the retention cables, a process prone to human error. However, SLU's partnership with YOAT has led to the development of this finishing wire bending machine, which has its tests scheduled for the next few days. It is expected to raise the quality of the treatment even more by offering personalized finishing options, taking orthodontic care to a new level.
The SLU university continues to challenge and prepare its students to make a difference, a news that as specialists in the area we find significant to share. If you need advice on CAD/CAM processes and digital dentistry. Enter here.