With the arrival of new technology to traditional orthodontics, there is currently a remarkable transformation when it comes to aligning dentures. These devices, known as Invisible Dental Aligners, offer a comfortable and aesthetically attractive alternative unlike the already known braces. However, despite their obvious advantages, there are common mistakes in some professionals who are just beginning to get acquainted with them, invalidating their effectiveness and safety.
Below we highlight some of the errors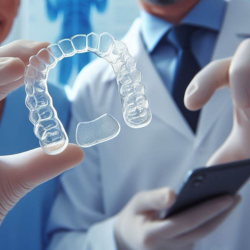 1- Inadequate intraoral scanner:
The basis of a good dental invisible aligner is undoubtedly the correct use of the intraoral scanner. 3D scanners are the main tools for creating digital models of the patient's teeth. A common mistake is a poorly done and shallow scan. This results in inaccurate final models, which unfortunately will negatively affect the accuracy of the treatment. This neglect usually occurs in dentists or auxiliary technicians in dentistry who begin with their first scans, but who are not very skilled with the tool. This, added to the desire to finish the procedure quickly, does not end up affecting the patient's final result.
2- Inadequate Design:
If the 3D intraoral scanner is the basis, the design is the heart of the treatment. This is a critical and fundamental point that must be thoroughly reviewed. A defective sketch can lead to inappropriate biting forces or useless tooth movements. Those who wish to start with this technique must have a solid training in the planning of this type of treatment, to avoid these errors and guarantee successful results.
3- Inadequate Adjustment:
Comfort and efficiency means that invisible aligners must fit perfectly on the teeth. If they do not fit correctly, they can end up causing discomfort, difficulty speaking or even injuries to the mouth. This error, which is very common for the rest, is exclusively due to problems in the design or production process. Therefore, it is essential that meticulous reviews and adjustments are carried out to ensure an adequate fit for the patient's comfort.
4- Supervision is key:
Follow-up of treatment is essential. During the process, if this is not executed efficiently, it can lead to the deviation from the original treatment and the need for additional corrections. Constant communication between the dental professional and the patient is essential to confirm that the treatment is progressing in a positive way.
5- Incompatibility with complex cases
While invisible aligners are ideal for mild to moderate malocclusion cases, they are not suitable for everyone. Failure to properly evaluate the suitability of these for certain patients can result in a lack of success. For this, a multidisciplinary approach with the collaboration of orthodontists is recommended.
6- Lack of Interdisciplinary Planning: Collaboration matters
Occasionally, treatment with invisible aligners may require the collaboration of other oral health professionals such as periodontists or oral surgeons. Lack of coordination can lead to problems, which is why interdisciplinary planning is essential to effectively address complex cases.
The manufacture of invisible dental aligners is a process that requires precision and attention to detail. Avoiding these common mistakes is essential to ensure effective and safe treatment. Continuing education, training and communication ensure that our patients obtain the best possible results from these innovative orthodontic devices.
In addition, the use of digital models makes it easier not only for the patient to know in detail the process and the projection of the results, but also the exchange of valuable information between professionals, in an agile way.