Next October, from the 12th to the 14th, the Valencia Conference Center will become the venue for the highly anticipated annual event of the Spanish Society of Stomatological and Esthetic Prosthesis (SEPES). This interdisciplinary congress is of great interest to dentists, technicians, and auxiliary staff from all areas of Dentistry. Under the motto "We're Already Digital, Now What?", this year's SEPES congress will focus on the digitalization process that is transforming Dentistry (digital dentistry) and society as a whole, affecting all aspects of the profession.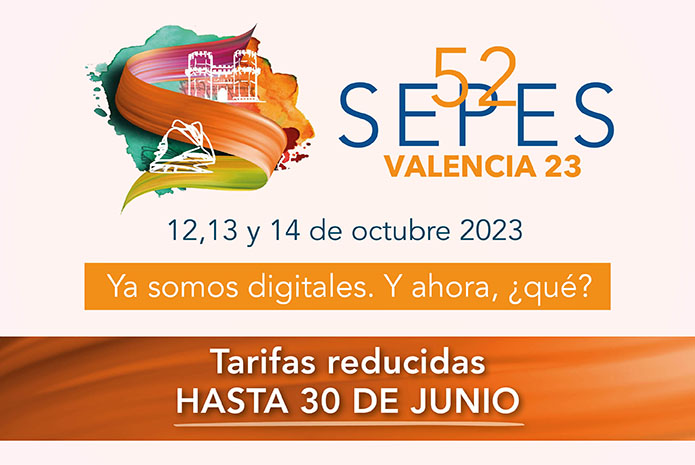 The process of transformation towards digital dentistry:
The arrival of digital transformation has impacted all areas of Dentistry, from protocols and procedures using digital technologies to qualitative and quantitative measurements of new tools. It has also been reflected in training and management channels and resources, which enable tackling learning curves and optimizing human resources in dental clinics. The industry has also embraced this digital revolution, driving constant innovation. Last but not least, digitization has had an impact on patient health, providing better treatment and care options.
SEPES Congress Program
Under the direction of Dr. Vicente Farga, the scientific committee of the Spanish congress has designed a comprehensive program of lectures and workshops covering various topics related to digitalization in Dentistry. Key thematic blocks include occlusion and articulators, prosthesis, veneers, milled solutions, perio/pros, sleep apnea, pink aesthetics and BOPT, guided implant surgery, digital, tooth preparations, and equipment and management. This program ensures broad coverage of current advancements and challenges in the digital era.
News and opportunities for attendees
As a novelty in this edition, in addition to sponsored lectures and workshops, attendees will have the opportunity to participate in after-work meetings and a symposium lunch, where they can interact dynamically with companies and get a closer look at their products. These innovative options seek to modernize the relationships between the industry and the SEPES community, offering benefits to all congress participants.
An essential experience
The 52nd edition of SEPES' annual congress in Valencia will feature a prominent presence of speakers, both national and international, totaling almost eighty experts. Furthermore, around fifty companies will be present in the commercial area, thus supporting the event. The combination of science, industry, and social aspects makes SEPES Valencia an essential experience for those wishing to stay up-to-date with advancements and establish contacts in the field of Dentistry.
Registrations and promotions
To ensure that all attendees can enjoy the lectures, simultaneous translation will be provided for English presentations. In addition, a reduced registration fee has been established until June 30th, incentivizing interested individuals to register in advance. Special rates have also been provided for students and promotions for group registration and clinic auxiliary staff, aiming to make participation in this important event more accessible.
If you want to be part of SEPES Valencia 2023 and stay at the forefront of the digital revolution in Dentistry, you can purchase your tickets here.