In the fast-paced world of dentistry, staying competitive is essential to provide quality care and stand out in the professional field. And digital dentistry has become a fundamental pillar to achieve this goal, by taking advantage of the most recent technological advances. Dentists can currently use these advances to stay current, offer state-of-the-art treatments and attract an increasingly demanding patient base.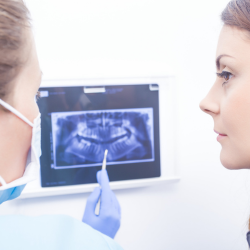 Advanced planning
Digital dentistry offers highly accurate diagnostic and planning tools that allow dentists to provide an exceptional level of care. Through the use of 3D images, intraoral scanners and digital x-rays, as a professional you can obtain a detailed and accurate view of the patient's mouth. These advanced developments allow you to identify dental problems more accurately, evaluate the anatomy in a comprehensive way and design personalized treatments by visualizing and simulating the results of the treatment before starting, allowing a more advanced and reliable planning.
Improvement of the patient experience
Digital dentistry is not only about technical evolution, but also about providing an enriched experience. By using digital tools, as a dentist you will be able to communicate more effectively with your patients by viewing digital images and models in real time. You will even teach patients about their oral health in a clearer and more understandable way.
This improved interaction increases patient confidence and encourages greater participation in the decision-making process. In addition, less invasive digital procedures, such as digital 3D CAD/CAM prints, provide greater comfort and reduce the anxiety associated with dental treatments.
Stay competitive and evolving
The implementation of digital dentistry has become crucial to stay ahead and meet the demands of modern patients. By adopting these advanced technologies, you will show as a dentist a greater commitment to your career and in the process, you will attract an increasingly informed patient base who are looking for efficiency, speed and safety in their treatments. The ability to offer state-of-the-art treatments and personalized solutions allows you to stand out in the market and maintain an ever-increasing advantage.
Using this more accurate diagnosis implies a daily commitment linked to continuous learning about technology. This new world will take you as a professional to experiment with state-of-the-art intraoral scanners, online services where you can complement opinions with other professionals, and even live schemes to show your patients the final results. By remaining competitive as a dentist, you will be able to position yourself as a leader in innovation and offer quality care linked to the advances of the future.
Digital Dentistry in numbers
Better accuracy: A study published in the Journal of the American Dental Association found that dentists who use digital instruments have a diagnostic accuracy of 97%, compared to 85% of dentists who use traditional instruments.
Less treatment time: A study published in the Journal of Dental Research found that patients who receive treatment with digital instruments spend an average of 20 minutes less in the dentist's chair than patients who receive treatment with traditional instruments.
In 2020, the global digital dentistry market was valued at 3.5 billion dollars. This market is expected to grow at a compound annual growth rate (CAGR) of 12.4% from 2021 to 2028.
According to a study by the American Dental Association, dentists who use digital dentistry can save up to 70% of space by not having to store molds. This can be significant savings, especially for dentists who have small offices.
Are you interested in turning your career around and joining digital dentistry? Write to us and let's work as a team, we are experts in CAD/CAM design, manufacturing and intraoral scanners. Contact us here or you can apply for your jobs directly here.