According to a Market.us report, the global market for dental crowns and bridges is projected to exceed USD 466 million by 2032, with a Compound Annual Growth Rate (CAGR) of 4.8% from the current year.
In 2022, this market was valued at $298 million, a figure that is expected to continue growing due to the high usage of these treatments, which are gaining popularity for their ability to restore the appearance and natural function of teeth.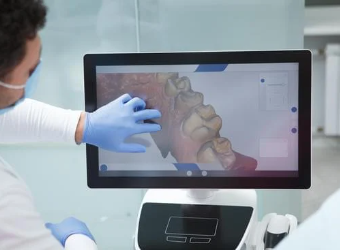 What is the reason for their high demand?
Primarily due to their numerous benefits, ranging from protecting a weak or damaged tooth to restoring its appearance, as well as addressing missing teeth. All these advantages, coupled with new digital technologies, offer patients long-lasting results with minimal discomfort during the procedure.
The key aspects that make this niche one of the most profitable include:
By material: Ceramic dominates the market share due to its resemblance to the original tooth and durability.
By end-user: Dental clinics have the largest market share due to their facilities and infrastructure.
CAD/CAM design technology: One of the most significant advancements of the last decade is the advent of CAD/CAM design. This technology has revolutionized how dentists create dental crowns, bridges, and veneers.
Cosmetic dentistry growth: The increasing demand for preventive and cosmetic dentistry is expected to significantly drive the market during the forecast period.
Increased investments in medical technology: The rise in investments in dental development, particularly for dental crowns and bridges, is also a contributing factor to the rapid growth of the target market.
Global Analysis
In 2022, the North America region had a significant impact on the global dental crowns and bridges market, accounting for 42.6% of the market share. This shift in trend is attributed to various factors, such as the availability of advanced dental technologies like intraoral scanners and CAD/CAM design. Additionally, the number of dental professionals has been increasing, contributing to market growth. Moreover, patients have also developed greater awareness of the importance of maintaining good oral health.
It is worth noting that the growing popularity of dental implants in the United States has also had a significant impact on the demand for dental crowns and bridges in the country. However, as we move into the projected period, the Asia-Pacific region, particularly China, is expected to have a greater market share in dental crowns and bridges. You can read about the substantial investments they are currently making in CAD/CAM design here.
Competition in the Industry
Most major players are enhancing their R&D efforts and quickly launching new products by increasing their research and quality criteria. The following companies are leading the CAD/CAM design market: Dentsply Sirona, The 3M Company, Amann Girrbach, Avinent Implant System S.L.U.
If you are interested in learning more about CAD/CAM design and increasing productivity in your practice, you can trust the experts. At SOi Digital, we specialize in this field, and our service is just one click away.Did you know that our design correction rate is only 2%, and you get three corrections at no additional cost? Find everything you need to know here. Let's start a conversation!